SMD Resistor
Simple SMD Resistor
Most Common type of Resistor which mount on Mobile PCB.Smallest Components on Mobile PCB. Simple Resistor is made by chromium, glass, sliver. This is Semi-Conductor Component.
The work of this resistor to resist current , Signal , Frequency flow on circuit.
Resistor Showing by "R"
Simple SMD Resistor Symbol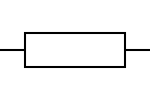 Simple SMD Resistor Unit
Ohms
Simple SMD Resistor Image
How to Check Simple SMD Resistor by Digital Multimeter
How to soldering & De-Soldering SMD Components.